Donard School visit
Donard School visit
20 December 2017 (by admin)
Mrs Matthews and her class were invited to Donard School , Banbridge, where student teachers from Stranmillis provided a range of festive sensory activities .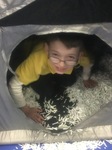 Many thanks to Mrs Lavery (Principal) and her staff for such a warm welcome .
Everyone had a great time !
Follow the link to see more.